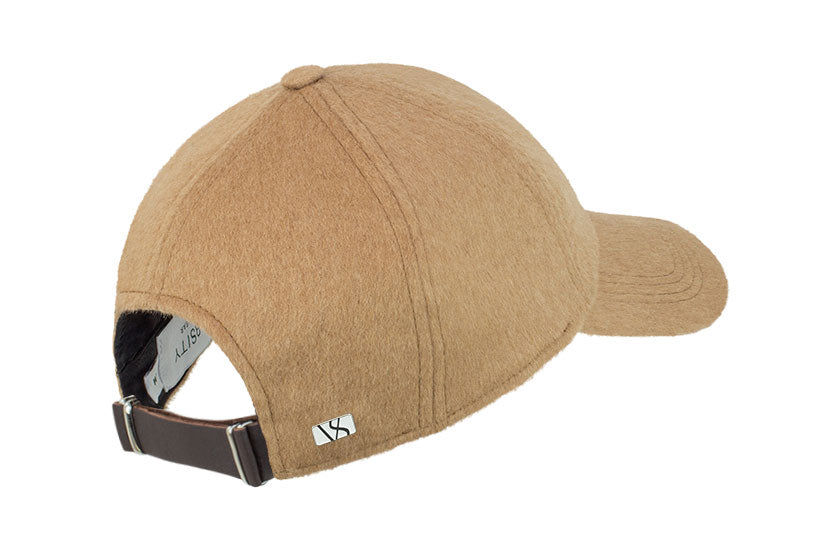 FW23 Camel Hair Wool Soft Front
Sourced from the finest traditional Scottish Oilskin producer in Dundee, the fabric has a beautiful finish and nostalgic smell. It's water repellent and shows its character over time with a 'patina' effect. The cap is lined with a luxurious viscose material. At the back, you'll find an adjustable nylon strap with stainless steel rings to personalize your fit and Varsity's signature logo.
SUSTAINABILITY:
One of these caps produces approximately 5.8 kg CO2 from production to shipment. This is equivalent to 5 washing machine cycles. For every cap that is produced and shipped, Varsity Headwear offsets the amount of CO2 through a cooperation with CHOOOSE. 
Each cap comes with an adjustable strap at the back, which is adjustable up to 1.5 cm in either direction.

M: 22 ¼ -23 inches
L: 23-23 ¾ inches
EXTERIOR FABRICS
Made of 100% Baby Camel Hair.

INTERIOR FABRICS
Made of 47% Polyester, 30% Viscose, 23% Cotton.

STRAP
The cap is fitted with an adjustable leather strap (+/- 1.5 cm), held together with stainless steel rings.